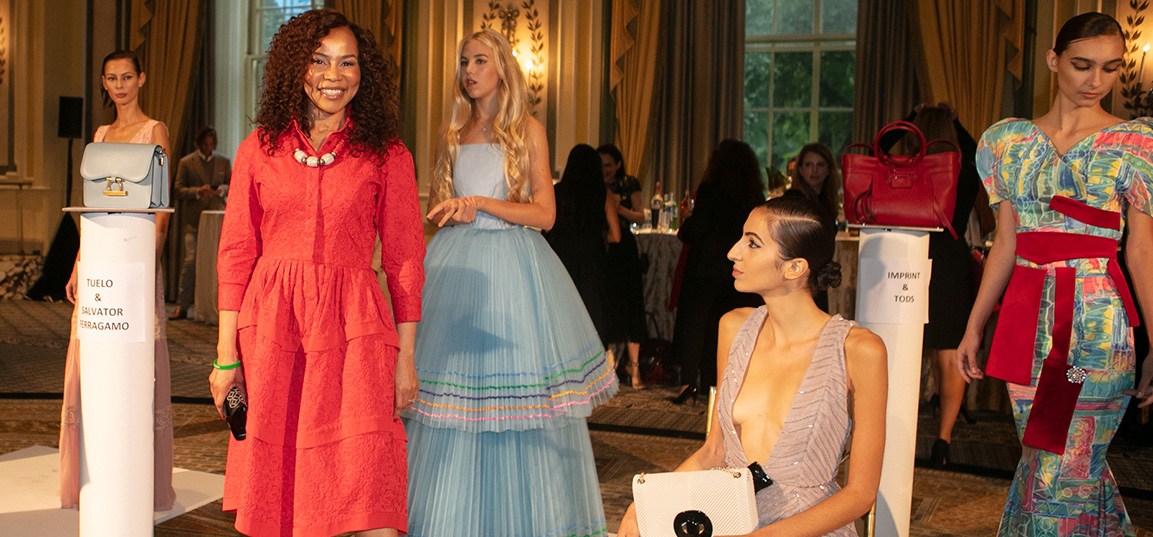 AFI COLLABORATE WITH LOCAL DESIGNERS TO SHOWCASE AT FASHION 4 DEVELOPMENT FIRST LADIES LUNCHEON
Fashion 4 Development (F4D) held their Annual First Ladies Luncheon during the United Nations General Assembly in New York on the 25th September 2018. This year, six African designers, sponsored and curated by AFI, were given the platform to showcase their collaborative efforts with international designers. First Ladies, UN Ambassadors and VIPs from around the world gathered to honour award recipients and celebrate fashion for the greater good of women and children around the world.
"This collaboration is part of our efforts to promote African designers at the highest and most relevant platforms globally," executive chairman of AFI Dr. Precious Moloi-Motsepe said from New York.
AFI supported six African designers with their production of quality, high fashion and luxury garments for this exhibition. Each designer was tasked with creating an outfit which reflects their own unique branded style, while drawing inspiration from an international designer handbag. The created designs had to be sustainably produced, avoiding the use of environmentally harmful fabrics. The designers were encouraged to include organic cottons, silk, hemp, bamboo and wool.
"I was sent the Veneta blue and black bag. I wanted to do three pieces that were wearable and sustainable – I used wool, mohair and metal lurex. It was an amazing opportunity. I feel like more of these events should happen so that African designers can be exposed to the industry, and the international industry becomes exposed to us and our designs," said Nicholas Coutts, who was paired with international designer Bottega Veneta.
The designer collaborations showcased at the F4D First Ladies Luncheon were: Nicholas Coutts with Bottega Veneta, David Tlale with Gucci, Tongoro with Prada, AFI Privé with Salvatore Ferragamo, Imprint with Tods, and Tuelo with Salvatore Ferragamo.
"It's every designer's dream to have their work shown in New York. And I got to experience a glimpse of that dream coming to life. Having the Imprint dress shown at Fashion 4 Development represented a beginning for me. I saw the opportunity as an entry to the NYC mainstream fashion scene. Not only because of the people that got to attend the event but mostly because I was paired with a household brand. My work was shown in the same platform as those global brands," Mzukisi of Imprint said.
"The concept of creating a dress inspired by the Tods bag was challenging at first. But immediately once I settled down I was able to see the bag differently. I started seeing silhouettes that inspired the dresses curved shoulders, a level of class and sophistication. The utility part of the bag, led to the creation of those pockets – which in a way read Imprint's afro futuristic aesthetic," Imprint added.
Imprint said he used natural fabric when creating the dress. "Our concept is to always celebrate our African roots and leave a mark and I love how we were able to achieve that in a very subtle way with this dress."
"Fashion is a powerful industry and must be seen as a force for doing good by creating decent jobs, empowering women and protecting our environment," Dr. Moloi-Motsepe added. Last year, Dr. Moloi-Motsepe was awarded the Franca Sozzani Award at the First Ladies Luncheon for her work with African designers.
ABOUT AFRICAN FASHION INTERNATIONAL (AFI)
In just over a decade, AFRICAN FASHION INTERNATIONAL (AFI) has built a thriving fashion marketing, retail and development platform. AFI celebrates the creativity and craftsmanship of our continent, shining a light on African luxury fashion aesthetics in all their originality, heritage and style.
AFI owns, produces and plays host to Africa's premier luxury fashion week in Joburg and Cape Town, which are AFI Joburg Fashion Week and AFI Cape Town Fashion Week.
Within its development strategy, AFI's Fastrack initiative identifies and invests in the best of the continent's young designers, by providing them with direct access to: mentorships, media exposure and business acumen through yearlong programmes that prepare them for navigating the fashion landscape. The programme, to date, has assisted in developing the careers of 75 new talents.
AFI Privé is AFI's contemporary fashion and clothing brand rooted in Africa. It is affordable luxury that focuses on fit, finish and quality.
Source AFI