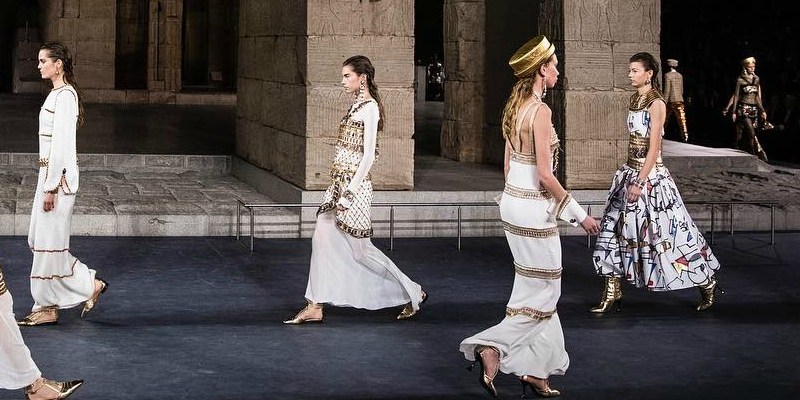 Chanel's Métiers d'Art travelled all the way back to Ancient Egypt for the brand's Pre-Fall 2019 Fashion Show, at the Metropolitan Museum of Art in New York City, this week.
Karl Lagerfeld, Chanel's creative director turned to the ancient civilisation for inspiration for Pre-Fall line, infusing Egyptian hieroglyphics and symbols with the fashion house's signature style. After the show, Karl explained that he has always been fascinated by the Egyptian civilisation saying, "I get inspired by an idea, which I make a reality."
Big names were drawn to the show and the cat-walk, with Margot Robbie, the brand's ambassador sitting front row with other stars like Penélope Cruz, and Julianne Moore. Meanwhile, supermodel Kaia Gerber walked the runway.The show paid homage to the ancient civilisation with the heavy use of gold accents, ranging from bright metallic yellows to aged bronzes, and lapis lazuli blues – colours associated with this era. It also made use of the skirts from the Spring 2019 ready-to-wear show, which were tweaked to resemble the shendyt worn by Ancient Egyptian men.
The luxury brand took to their Instagram account to share some of the looks from the line.

" rel="noopener" target="_blank">