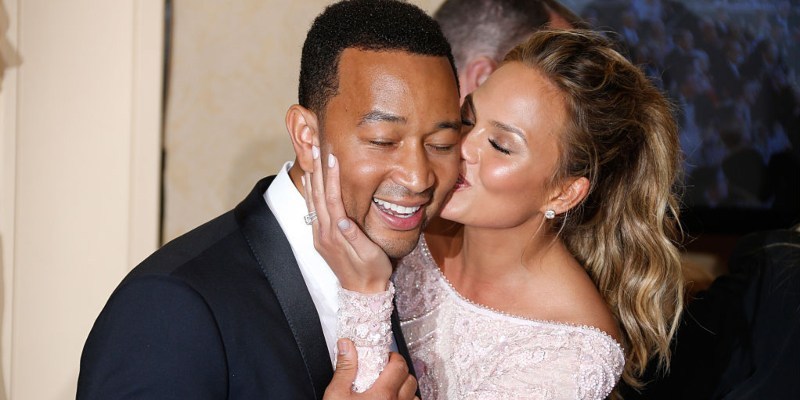 Chrissy Teigen and John Legend share everything, even their skincare R.
John Legend is one of the music industry's most succesful artists, and Chrissy Teigen is one of the internet's favourite people. Together, they make one of Hollywood's most chilled and laid-back couples, and we can't help but love them. We have gotten used to the duo being candid about their relationship and their issues. Now, they have revealed their skincare routine, which apparently they share.
While discussing her and John's glowing complexion, the former model revealed the secret behind it – and it couldn't be more random. Rather than following an elaborate and complex seven-step skincare routine, the kind we see all over Instagram and Youtube, Chrissy and her husband make use of what ever is around them. Yes, you read that right. "We share pretty much everything," the 33-year-old explained to People. "We keep everything in the shower together. I kind of just reach for the first thing that I see, and he does the same thing. We're not sticklers about the actual skin-care products.
https://www.instagram.com/p/BybMcvxhbCb/?utm_source=ig_embed
So if you are wondering what is in their beauty cupboard, Chrissy unpacked it all. When it comes to tools, we have our own individual things. He has a Foreo, too. It's right next to the sink. It's like his-and-hers Foreos!" Back in 2015, the mother-of-two admitted that she tends to take better care of her skin while traveling than she does when she's at home. "It's funny, because I'm actually crazy about [skin care] when I'm on an airplane or something," she told Refinery29. "When I travel is when I take the best care of my skin because I have all the time in the world, and can put on every cream. But, when I come home after a long day, I'm not great about keeping everything up — the serums, the lotions, and the potions that I have — sometimes, I don't even wash my face. But, I'm nuts about it on an airplane. I go very hard."