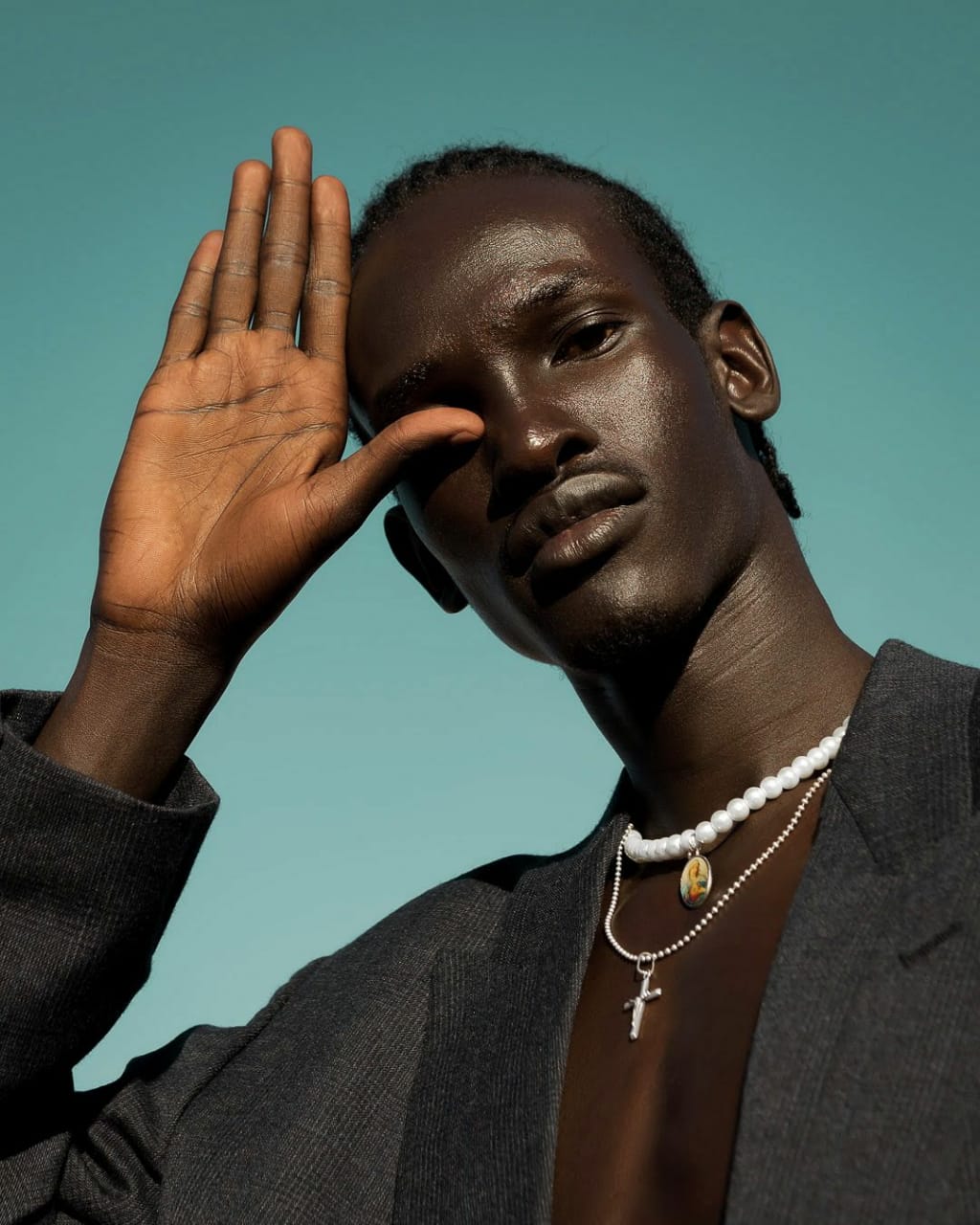 Inspiring Story: Deu Simon's Transition from Refugee Camp to International Modeling
I was born on September 8, 2000 in Panyagor, Sudan to a polygamous family which had been stricken hard by the cycles and miseries of poverty. During this time, Sudan was experiencing a fatal and prolonged civil war that left thousands of South Sudanese dead, injured and displaced to other parts of the world. Life was hard and my father could not bear with the brunt of it. As a result, we were displaced to Kakuma Refugee Camp in Kenya.
After a cordial and warm welcome by the UN and other refugees, we were enrolled in primary education in the camp. Life in the camp was difficult. There were outbreaks of disease, communal conflict, scorching weather conditions and no good shelters. We had very little. But at least we had a meal at least once a day – we could eat porridge in the morning till dinner.
We had no clothes and I remember having a pair of shorts and a black pullover that I would wear to school, wash it on Saturdays and then wear it to church on Sunday. I never tried on shoes on until I was in class three – I secured the first position in my class and as a prize my teacher bought me sandals. I wore them for the whole afternoon and all the other students sat next to me in class. They wanted to try them on. It was the best day of my life until home time. I was bullied on the road by a goon who I had never seen before and they took my sandals. I was so depressed but I couldn't do anything or report them to anyone since I was the eldest of my siblings.
It was a coincidence that when I reached home, we were given good news that Daddy had been recruited to the army. Because of his hard work and tireless determination, he was promoted. He spent his salary mostly to cater for our necessities. When I was going to class five, he brought us to Bungoma county where he enrolled me and my siblings in Bungoma D.E.B primary school (a public country school in Kenya). Hard work, discipline and determination were the virtues I prioritized and they guided me through primary education life.
Life became harder when we suddenly received the somber news that my father had shot dead in Malakal, South Sudan on January 1, 2014. I was going to study for my class eight certificate the next year and my father, who was the only hope and breadwinner of our family, had passed away at the moment we needed him most. The tragic loss of Daddy made most of my cousins and my elder sisters drop out of school due to lack of school fees. In addition to that, my family went back to Kakuma Refugee Camp because no one was left to pay for rent and other basic needs. I was left behind temporarily in Bungoma because I was a pre-candidate. However, no one agreed to pay my fees so I later joined my family in the camp in 2016. Eventually life in the camp became so hard we moved back to South Sudan.
Luckily, a well wisher who was also an old friend of my father later found out that we are not going to school. He visited us and after seeing that we had performed well in school, he sent me and my step brother back to Kenya to finish school. We registered again in 2017 and completed our primary certificate. Due to the crisis in South Sudan, the well wisher said he could not manage to sponsor the two of us through high school so he only sponsored my step brother. I found a high school on my own that had cheaper fees, which my mother in Sudan paid. My mother was paying my fees and also paying for my younger siblings to go to school and have their living needs met. I was so ashamed since she had no stable job – she made her little money selling vegetables in the market.
All in all, through the ups and downs that I have experienced in my life, I have always been determined to death to work tirelessly in my education in order to attain stupendous results. I have always had a "zero tolerance" policy to anything that will destroy my future because I understand the struggles of my family and Africa at large.
My secondary school was a total struggle. I had no one paying for my personal upkeep so during the school holidays I would work as a waiter. I would save the money and use it to buy second hand clothes which I would take to school illegally and sell them to other students. They would buy the clothes and even request for more. I would fake sickness in order to get out of school to go fetch more clothes and earn money to sustain me. Despite my hard work, I was not able to pay school fees and never graduated.
Last year, one day during school break, my friends asked me to go for a photo shoot with them and I accepted. I posted the photos from the shoot later that night on Instagram and the next day when I logged on, I found a message from a model agency asking for my height, age and my current location. After my reply, they offered to sign me internationally. A year later in January, I was given the opportunity to fly to Paris and walk in Mens Fashion Week.
Fashion week was beautiful experience. I was welcomed by the fashion community which to me was priceless. My Paris agency briefed me about the capital, how to move around the city and where to buy food. It was so exciting for me to castings where there so many beautiful models from all over the world. Knowing I had stiff competition inspired me to give my best at every casting. In end, I was able to make my debut in shows for designers like Rick Owens. Paris fashion week was the best thing that ever happened to me.
I'm now back in Kenya and working with various photographers, designers. Recently, I even shot a music video. In the future I would like to work more internationally and become a top model. I am also looking forward finishing high school one day.
It's realistic to say life is unfair because people are taken advantage of, are hurt, have lost their love ones and have gone through a lot of pain in their lifetime. To this juncture, I have learned many life lessons and have trained myself to accept life as it is – its treasures and every moment. As well, not to compare my life to anyone else's. I realize that as I have grown, so have the number of the problems in my life – as well, my list of goals has become longer. I know that I need to be agent of change my life.
I don't want to see my younger siblings to go through the struggles I have gone through. I know that I need to set a good example for them and give them a reason to work hard in life and fulfill their dreams. My four siblings are the source of my motivation – they light up my passion to work hard. I don't need anybody to remind me that every day I am doing my best. I work hard for all the blessings and wins in life. I work towards my independence and I expect nothing from anybody.
Life is one big negotiation and I negotiate with myself to succeed.