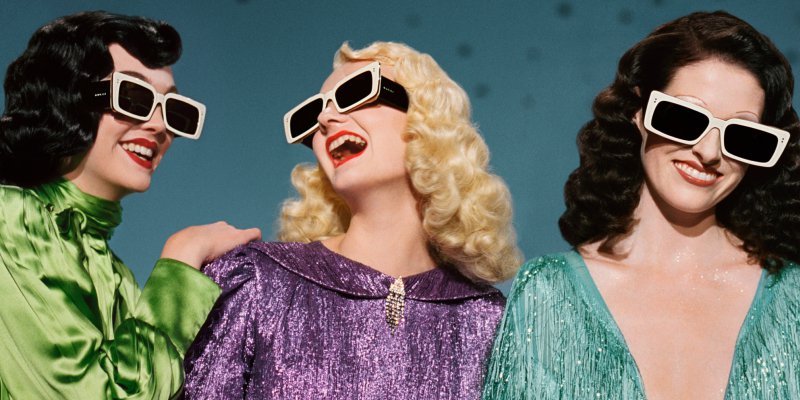 first look at Gucci's Spring Summer 2019 Campaign
Gucci celebrates celebrity culture in their newest Spring Summer 2019 campaign. The brand's creative director, Alessandro Michele, was inspired by the Golden Age of Hollywood musicals, which comes to life through dazzling glitters, fanciful fringes, and ostrich-feathers.
The campaign, directed by British fashion photographer, Glen Luchford, is divided into three parts – a colored photo-shoot, a black and white photo-shoot, and a video series. Glen drew his inspiration from famous classic musicals, like Singin' in the Rain (1952), and Cover Girl (1944), among others. He succeeded at delivering that old and nostalgic Hollywood vibe, thanks to his use of technicolour, and song and dance numbers that were a staple during the 40s and 50s.
For the black and white shots, the 51-year-old photographer, recreated the infamous headshots that studios used to use to promote the stars of their films. Several characters from Gucci's musical were given the chance to appear as silver screen stars, thanks to the dramatic portrait shots. Like the 30s and 40s, these photos radiate Hollywood glamour. We see Gucci's characters as they tap dance on top of tables, similar to the choreography of classic musicals. The soundtrack used in the campaign is "There's No Business Like Show Business", the song by Irving Berlin written for the musical Annie Get Your Gun.
Credits: 
ART DIRECTOR: Christopher Simmonds PHOTOGRAPHER/DIRECTOR: Glen Luchford
HAIR STYLIST: Paul Hanlon MAKE-UP ARTIST: Isamaya Ffrench
IMAGES & VIDEO
AN AMERICAN IN PARIS: TM & © Turner Entertainment Co. (s19)
SINGIN' IN THE RAIN: TM & © Turner Entertainment Co. (s19)
THE BAND WAGON: TM & © Turner Entertainment Co. (s19)
GENTLEMEN PREFER BLONDES © 2019 Twentieth Century Fox Film Corporation.
THERE'S NO BUSINESS LIKE SHOW BUSINESS © 2019 Twentieth Century Fox Film Corporation. COVER GIRL © 2019 Columbia Pictures Industries, Inc. All Rights Reserved.
VIDEO MUSIC
"THERE'S NO BUSINESS LIKE SHOW BUSINESS" by Irvin Berlin © Berlin Irving Music Corp.
Courtesy of Twentieth Century Fox Film Corporation