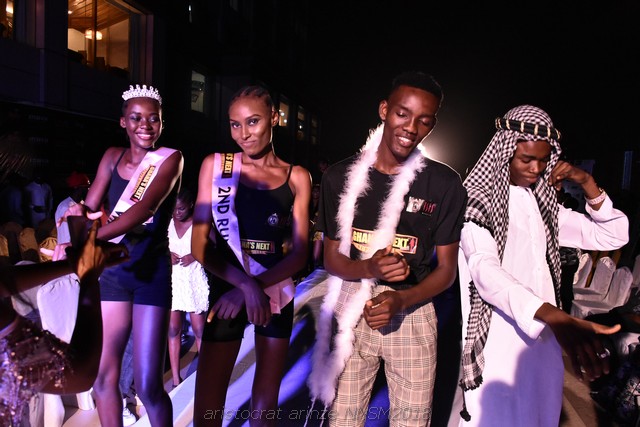 Ghana's Next Super Model 2018 – Maiden Edition
Ghana's Next Super Model organized by Sparkzuta Agency Ghana is one of the best things that's happened to Ghanaian models in a long time. The event custom-designed to promote models, and also to turn up and coming models into world-class supermodels was conceptualised by Joan Okorodudu of ISIS Models Africa with a passion to empower young and bright boys and girls in the modeling industry.
Ghana's Next Super Model was held alongside Nigeria's Next Super Model 2018 in a grand style at Oriental Hotel, Victoria Island. As announced, Ama Amponsah Grace went home with the crown and the grand prize a brand new car which will be presented officially today Sunday 27th of January 2018 in Ghana. The runner up, Blessing Azome is also getting modeling contract with Sparkzuta Agency and will be featured of course with the winner on several international fashion shows, fashion magazines, etc.
The winners for the 2018 competition was equivocally chosen right by a panel of judges which included Sparkzuta, Uchenna Ukwudinma, Marsha Okhai, Adetutu, Hakeem Salaam, and the Chief Judge Joan Okorodudu the originator of the model competition and owner of ISIS Models Africa.
Each of the contestants for this year came with their unique backstories, some detailing lives of tumult, but ultimately with a sense of hope. The competition was an all round excitement from the day the contestants entered the camp for one month reality show at Ghana, and one week at Linda Ikeji's Gidi House in Nigeria for the top 5. The camp experience was life changing for all of the contestants, as they each experienced transformations in their modeling skills. Several modeling training sessions by Larry Walker got some of the model newbies balanced on high heels, improved their graceful strides and attitudes on the runway.
Special Runway experience on the runway from the Nigeria's Next Supermodels featured Imade Ogbewi, Ibukun Sammy, Omolola, Anya Ekong and other ISIS Models A-lists.All of the top 24 contestants were awarded contracts to Isis Models Africa, Johannesburg. Among the special guests in attendance were Bube Okorodudu – Chairman Carlink and Cross Country, Mrs Evelyn Omawunmi Urhobo – APC Woman Leader, Ohaneze Ndigbo of Lagos, Meg Alabi, Princess Oyeme of GMite, Layole Oyatogun, amongst other top dignitaries.  During the event, JP KOUTURE presented an amazing collection in a more dramatic mode that held the audience spellbound.  Other designers who presented during the competition were My Beautiful Africa, O'Saunders and Big Ben Kilani. ZARON Cosmetics, one of Africa's proudly owned cosmetics companies was the official make up sponsor. Other sponsors of the event were; SOFY PADS, STUDIO 24, MYSHA, and Centurion Security Company Limited.
Production crew: Odis Production – Lighting and stage, Linda Ikeji TV – Production, Tokunbo Ajayi – Head of Production, Olumide  Adekunle
– Head of IT, Larry Walker – Catwalk instructor, Mr. Paul Allison – Production Crew