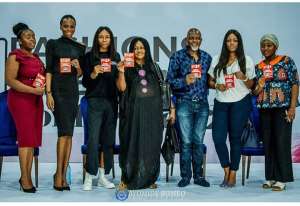 ISIS Models founder and publisher of Avant Garde International Magazine,Mrs Joan Okorodudu was one of the facilitators at the African Model Congress;a segment of the Fashions Finest Africa Epic show.The three day event was held at the Balmoral Convention Centre,Federal Palace Hotel,Victoria Island Lagos.
Mrs  Okorodudu who is widely acclaimed the godmother of the modelling industry in Nigeria spoke on some of the challenges models face and how to overcome them.She mentioned some of the negative opinions held by Models.She said "From my years of experience in model management,I've seen a lot of unsavoury things models do.I would therefore like to advise models to be wary of wrong messages,bad impressions and desperation,they should strive to be loyal,honest and hardworking.These are the attributes that can take them to the top of their careers.
Buttressing the point on how disloyal many models have been in the past,she maintains that this remains one the major stumbling blocks to a successful modelling career.She pointed out that models should desist from carpet crossing and espouse the values of loyalty and honesty in their dealings.
She also reiterated the admonitions given by the representative of National Agency for Traafficking Persons,Hajarat May,she advises models to be extremely vigilant when it comes to matters of travelling to other countries of the world and not to allow desperation cloud their sense of reasoning.That contrary to wrongly held belief that models can only be successful when out of country,she said Nigeria also creates an enabling environment for modelling and that there are plans to do more.
Other panelists at the congress include Miss Aisha Bello of Star Models,Elohor Essen of Beth Models,and Hajarat May of NAPTIP.