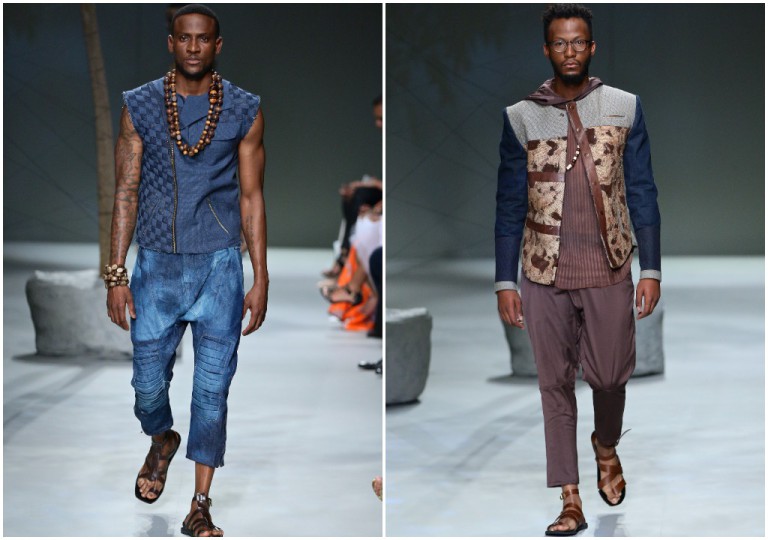 AfrikanSwiss
Established in 2006 by Thato Matabane, AfrikanSwiss is a premium denim brand that 'celebrates, embraces and reclaims Africa's pride through lifestyle and fashion'. The eclectic brand produces large and small customized runs of both recycled and brand-new styled denim pieces and are sold within their in-store labels, AfrikanSwiss Rehab and AfrikanSwiss Blue.
'The AfrikanSwiss client is proud to wear their African heritage on their sleeve, through the medium of fashion — specifically high-end denim,' says Thato. If you visit the AfrikanSwiss store in Johannesburg, you'll find edgy designs such as distressed jeans and dungarees, patchwork denim shirts and cotton T-shirts emblazoned with the brand name. So, what is to be expected from their Autumn/Winter '17 collection?
'We are celebrating the township street vibes we grew up in and the craft of denim making. We are also playing around with different cuts, our AfrikanSwiss indigenous print and treatment techniques. For this collection we'll be collaborating with Loxion Kulca for sneakers,' says Thato.
Roman Handt
Roman Handt's namesake brand merges the seemingly opposing worlds of streetwear and high fashion through the use of unexpected materials, fresh construction techniques and reimagined silhouettes. Referring to his unique designs as 'guerrilla couture', Roman's visually arresting ensembles incorporate crazy prints and outlandish architectural detail. His show is guaranteed to entertain and inspire lovers of avant-garde fashion.
Designer Original Products Enterprise (DOPE)
Founded by Andile Cele, DOPE is a South African luxe sportswear brand that brings quintessential urban fashion to the people of Johannesburg. If you love clothing that's comfortable and stylish, then DOPE is right up your alley. The brand offers ladies and menswear in a range of vibrant colors, fabrics and eye-catching prints at their popular store on Joburg's Commissioner Street. For Autumn/Winter, DOPE takes its inspiration from tennis and African heritage.
'We will show only our menswear collection and have an exclusive footwear partnership with Vans and Grasshopper. The collection to be shown is from all our sub-labels DOPEwhite, DOPEorange, DOPEblack, DOPEhomme and DOPEplus,' says Andile.


Rogue
Henni de Kock was awarded first place in the SAFW Scouting Menswear Competition in 2015 and this year will be showing at SA Fashion Week for the third time in his career. Rogue is based on the principles of innovative design, exceptional quality and superior fit, and develops men's apparel that is conceptual whilst still having a classic appeal. Henni finds inspiration in technology and merges concepts of futurism and classicism in an unconventional aesthetic. The brand takes men's tailoring to the next level by offering a unique and stylish alternative to traditional menswear. Fashion lovers can expect high-end designs that incorporate surprising details like draping and asymmetrical zips.