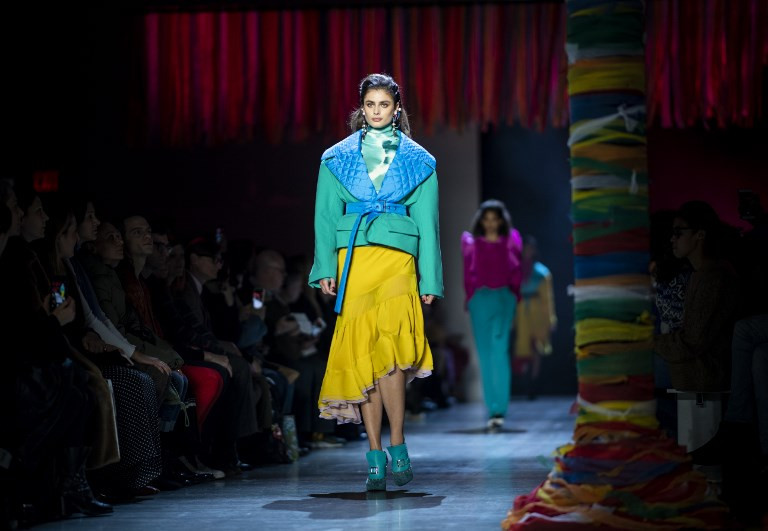 Next autumn looks sexy and colorful @ New York Fashion Week
Halfway between in New York, the style glitterati lined catwalks to preview the trends for next autumn and winter.
The short answer? Lots of bright color and lots of sex appeal.
Here are some highlights from the latest shows at New York Fashion Week, which culminates Wednesday with a presentation from Marc Jacobs:
The result was a joyful, bright ready-to-wear collection — a theme he had introduced last season after several years of more sober designs.
He played with sari draping, especially in ikat and mandala-inspired prints.
No monochromatics or tone-on-tone ensembles here: purple or mustard yellow and turquoise, red and pink — women should use their imagination in Gurung's world.
The designer said in his notes that he hoped to create a "multi-faceted, colorful and optimistic place where integrity, purpose, levity and love are our most celebrated virtues."
Longchamp: Leather and short skirts
As more and more American designers flee New York for London, Paris or Milan, foreign fashion houses are flocking to the Big Apple to take advantage of the style vacuum.
Case in point: venerable French label Longchamp, which is looking to develop its stateside presence and staged its second New York show at the weekend.
Glamor from Christian Siriano
Even if foreign labels are rising in New York, some homegrown designers still generate buzz. Christian Siriano is one of them.
From his beginnings as a winner on TV reality show "Project Runway", the 33-year-old has quickly become one of the go-to names in Hollywood.
Just ask actresses Debra Messing (Will and Grace), Mariska Hargitay (Law and Order: SVU), Danielle Brooks (Orange Is The New Black) and Christina Hendricks (Mad Men), who were all in the front row.
Siriano is also known as a champion of diversity — on the runway and in his designs. When no one would dress actress Leslie Jones for the Ghostbusters premiere, he stepped up.
After a long wait to reach the show at Top of the Rock — on the 67th floor of Rockefeller Center — Siriano worked his magic, unveiling a series of evening gowns in silver, black, white and deep blue.
Curvy model Ashley Graham closed the show in a transparent silvery confection, as the audience cheered.