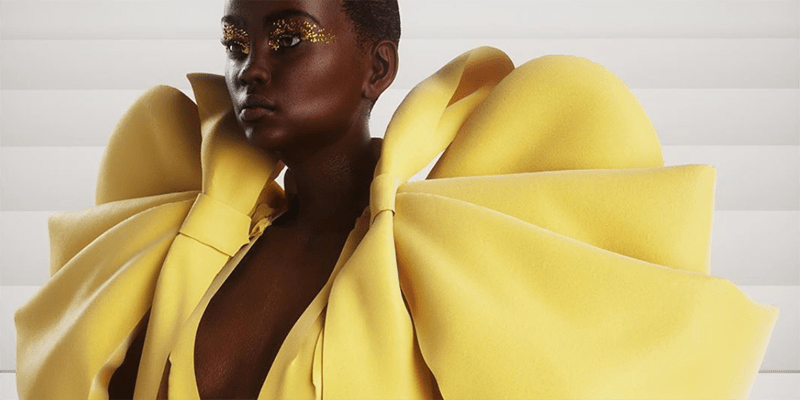 Ralph & Russo Founders continue to create couture dreams during the pandemic
Tamara Ralph and Michael Russo have successfully created a powerhouse super brand, through word of mouth, integrity and a fierce attention to detail.
Following a chance encounter in 2004, the pair founded the now powerhouse couture brand Ralph & Russo. The first British design house in almost a century to join the prestigious Chambre Syndicale in 2013 (the French regulatory body that certifies what is and isn't haute couture) and the first British brand to show at Paris Couture Week in 2014 alongside industry giants like Chanel, Elie Saab and Givenchy. Boasting a loyal and often royal client base – including Princess Ameerah al-Taweel of Saudi Arabia, Angelina Jolie and Natalie Massenet, their appeal spans every demographic of the client. "We believe what sets us apart are our fundamental pillars as a house; our mission has always been to offer approachable luxury, exceptional craftsmanship, creativity and highly personalised customer service," says Michael Russo.
Working out of a seventh floor, 19th-century townhouse in London's Mayfair, the brand represents everything couture stands for, which is not surprising given that Tamara is the fourth generation in her family to work in couture. Every piece is constructed entirely by hand that can take thousands of hours to finish and with only one version of each garment per country, there is that crucial element of exclusivity. They work with some of best artisans in the world and use centuries-old techniques when it comes to crystal-glass beading, rose-gold foiling and use of luminous fabrics, yet the pieces feel relevant to what the world's most affluent women want to wear.
According to reports, the company was said to be growing by 400 per cent every year and from the beginning had a stronghold on the Middle Eastern market, but they're not stopping just at couture. They introduced ready to wear in 2017 and have a line of accessories, including stilettos with ornamental filigree leaves spiralling up the heel, and a range of bags called Alina that can be made of mink, calf or python and feature feather-shaped handles. In addition to their stores in Monte Carlo and Paris, the duo has opened further boutiques in Dubai and Doha.
https://www.instagram.com/p/CFHi6ntHlSK/?utm_source=ig_embed
Now they're on a mission to transform Ralph & Russo into a lifestyle brand with perfume and beauty, eyewear and, eventually, menswear. However, some of their plans had to be put on hold due to the global pandemic, but that hasn't prevented the duo from innovating.
With autumn/winter 2020 couture shows forced to go online due to lockdown rules, Tamara and Michael decided to create an avatar to present their latest collection. Named Hauli – which is a traditional Swahili name, synonymous with strength and power – the digital concept presented a new challenge. Not only did the entire team have to work remotely and rely on video calls to go through sketches, but they also had to rely on their rich archive of fabrics as shipping restrictions in Europe made it difficult to source material. Then came the time to digitise every detail of the collection before finally unveiling their mesmerising avatar-styled pieces that look almost as good as the real thing.
https://www.instagram.com/p/CCiS_jTn3P_/?utm_source=ig_embed
How would you define Ralph & Russo?
Michael: We are a global luxury lifestyle brand with an offering that encompasses couture, ready-to-wear and accessories, all designed, created and tailored for the modern, independent woman. We believe what sets us apart are our fundamental pillars as a house; our mission has always been to o er approachable luxury, exceptional craftsmanship, creativity and highly personalised customer service.
How has the brand overcome 2020 and its challenges?
Michael: Like most brands, when the pandemic began to take hold, we had to pivot quickly and rethink our overall business strategy. We scaled back some of our projects to focus on only the most essential initiatives, and redirected the majority of our e orts to focus on the digital space and making this the primary means of communicating with our clientele, as well as our supporters. While digital and e-commerce were always important to the brand, we knew it was crucial to invest much more time and energy, as well as financial resources into this platform, to make it as engaging and user-friendly as possible. Making digital a priority will be our new norm, and incorporating this into your larger strategy opens the door not just for creativity, but for the entire world to enjoy and be a part of your brand.
Tamara: With our clients, in particular, the limitations of travel have led us to trial new ways of interacting with them during the quarantine period. As we haven't been able to host them at our Mai- son in London or Paris or travel to them for appointments, we have instead been conducting e-fittings and appointments via Zoom or a similar platform. While it's certainly different, it has worked well. Every client is different of course, and you have to respect their wishes during a trying time like this.
Michael: The process along with the overarching situation globally has taught us quite a lot about how to move forward. We have learnt how to properly take a step back, assess a huge challenge like this one has been, look at the bigger picture, and quickly shift our approach. This is a lesson that will stay with us, and which, to be truthful, was much needed. Our industry moves so quickly, almost too quickly, and if there is any silver lining to all of this, it's that it has forced us to re-evaluate what works and what does not, what is dated and what is the future, as well as what's important and what isn't.
You have many loyal clients in the MiddleEast, does your approach di er when it comes to dressing women from the region?
Tamara: Our client in the Middle East really understands luxury, and has a big appreciation for detail, beauty and design. They love getting dressed up, aren't afraid to be bold, and they love celebrating, so this certainly informs how we approach dressing our clientele within this region – which is a lot of fun!